Celebrating International Day of Italian Cuisine
We think Italian Cuisine is the best in the world packed with passion and flavour. On the 17th of January we celebrate International Day of Italian Cuisine. The International Day of Italian Cuisines (IDIC) is a day to celebrate Italian recipes cooked with the best products. We at Rinuccini believe in delivering the best authentic Italian dishes using the finest ingredients. Chef Antonio has shared one his favourite dishes- Classic Italian Lasagne Al Forno for you to enjoy. Chef Antonio remebers helping his mother prepare this dish back in Lazio as a child.
We hope you enjoy this beautiful Lasagne Dish.
Classic Italian Lasagne Al Forno 
Serves 6 portions
Ingredients
400g fresh lasagne sheets cooked al dente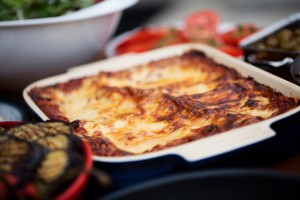 200g shredded mozzarella
100g freshly grated parmesan cheese
Bolognese Sauce
300g lean minced beef
200g lean minced pork
2 tbl olive oil
2 large cloves of garlic finely chopped
1 onion finely chopped
2 sticks of celery finely chopped
1 med carrots finely chopped
1 glass red wine
2 bay leaves
Sea salt and freshly ground black pepper wine
Method:
In a large pot, heat 1 tbl oil over medium heat, add the onion, celery, carrots and garlic and cook for about 15 minutes, remove vegetables from the pot.
Put the rest of the olive oil into the pot and heat over a high heat, add the beef & pork, salt & pepper and cook over a high heat for 5 minutes, return the vegetables to the pot and add the red wine & bay leaves, bring to the boil than reduce the heat to a slow simmer.
Simmer for a least 1 hour until the meat is very tender then add the tomato sauce, continue to simmer for another 10 minutes and check for seasoning.
Simple Tomato Sauce:
1 tbl olive oil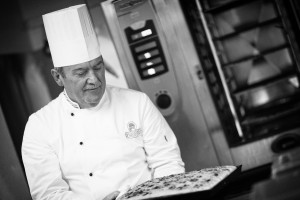 1 small onion, finely chopped
2 cloves garlic, finely chopped
Sea salt and freshly ground black pepper
2 x 400g tins chopped Italian tomatoes
1 tsp fresh or dried oregano
 Method
In a large casserole, heat oil over medium high heat.
Add onion and garlic and sauté until soft and translucent, about 5 to 10 minutes.
Add tomatoes and oregano, salt & pepper and simmer uncovered on low heat for 30 minutes or until thickened and check for seasoning.
To assemble the lasagne
Preheat the oven to 190 degrees. Lightly grease a 9 x 13-inch baking tin
Keep in mind that there will be 4 layers of lasagne, so mentally split the sauces and cheeses into 4 as you layer them to make sure you have enough at the end.
Line the bottom of the tin with Bolognese sauce. Cover with a layer of lasagne sheets then top with mozzarella and parmesan, spreading all the way to the edges, continue for another 3 layers and top liberally with mozzarella and parmesan.
Bake for 30 minutes. Allow the lasagne to sit for 10 minutes before serving.
CHEF TIP: Using fresh Mozzarella instead of packaged adds taste as well as texture
We always strive to create the best Italian cuisine and wine offering and we put a lot of time into finding exceptional ingredients to offer our customers. We are lucky enough to have built excellent relationships with our food and wine supply partners over the years and now offer numerous exclusive fine wines from Italy, imported directly to the restaurant.
We hope you enjoy trying this recipe at home. Why not sends us a picture of your creation via Facebook or Twitter or try Antonio's recipe for yourself next time you visit Ristorante Rinuccini.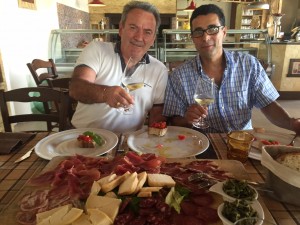 https://www.rinuccini.com/wp-content/uploads/Lasagne1.jpg
683
1024
admin2018RL
http://www.rinuccini.com/wp-content/uploads/Rinuccini.svg
admin2018RL
2017-01-13 15:18:21
2018-10-08 16:13:06
Classic Italian Lasagne Al Forno