This Mother's Day, treat your Mum to lunch at Ristorante Rinuccini. Celebrate with a three-course lunch specially created by Chef Antonio.
Choose sumptuous Italian cuisine from our Mother's Day menu including 'Paté dello Chef', homemade Irish chicken liver paté, mixed leaves & warm garlic ciabatta, and the delicious 'Catch of the Day' fresh daily from the boats of Kilmore Quay.
For a sweet finish pick one of our indulgent desserts featuring our Tiramisu Classico, with layers of sponge, laced with rum and espresso coffee, filled with zabaglione, topped with cocoa &  shavings of dark Italian Chocolate – the perfect 'pick me up' to finish your meal.
This Mother's Day we are offering this delicious three course menu from €30 per adult and €16 per child. Call today on 056 7761575 to reserve your table or email info@rinuccini.com.
Happy Mother's Day to all our customers.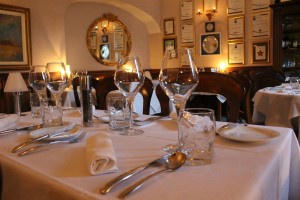 A sample of our Mother's Day Lunch Menu
 €30 per adult
€16 per child
**********
Zuppa del Giorno (Gf) (V)
Choice of homemade Soups of the Day, made with fresh market vegetables
Paté dello Chef
Homemade Irish chicken liver Paté, mixed leaves & warm garlic Ciabatta
Insalata della Casa  (Gf) (V)
Organic mixed leaf salad, char grilled fresh vegetables,
olives, sliced marinated artichokes, homemade vinaigrette
Involtini di Melanzane (V)
Rolls of aubergines, stuffed with Ricotta cheese and sundried tomatoes, baked in a fresh tomato sauce,
served hot with a dusting of 24 month aged Parmesan cheese
Cozze Messinese (Gf)
Fresh Wexford Mussels, tossed on the pan with garlic, white wine,
chopped tomato and a touch of fresh chilli
Tagliata di Filetto di Manzo (Gf)
Thin slices of seared, chilled, Fillet of Irish Beef, marinated in extra virgin olive oil, fresh lemon juice, garlic, served with rocket and shavings of 24 month aged Parmesan cheese
Cocktail di Gamberi (€ 4 supp) (Gf)
Kilmore Quay Prawns, shredded iceberg lettuce, classic Marie Rose sauce
**********
Polpettine con Spaghettini
Homemade baby meatballs served in a fresh tomato sauce with garlic and basil Spaghettini
Rigatoni alla Vodka
Tubes of Homemade Free Range egg pasta in a cream sauce
Crispy pancetta and touch of fresh tomato and a splash of vodka
Cannelloni dello Chef
Homemade Free Range egg fresh pasta, stuffed with red wine braised Irish Beef Fillet &
Ricotta, oven baked in a fresh tomato sauce
Risotto ai Frutti di Mare (Gf)
Carnarolli rice, chopped tomato & fresh Kilmore Quay seafood
Catch of the Day (Gf)
Fresh daily from the boats of Kilmore Quay
Porchetta Rinuccini (Gf)
Roast Irish Pork Belly, stuffed & rolled with garlic & fresh herbs, finished with a Marcella wine reduction
Suprema di Pollo ai Funghi (Gf)
Supreme of free-range Irish chicken, cream and forest mushroom sauce with pancetta,
white wine and fresh basil
Anatra al Sapore d'Arancia (€ 5 supp) (Gf)
Award winning Silver Hill Irish duckling, oven baked in a fresh orange juice and Aurum liquor sauce until crisp
Filetto di Manzo Buatt (€ 6 supp) (Gf)
Seared Irish Fillet of Beef, served with a cream and black pepper sauce
**********
Cheesecake Al Limoncello
Mascarpone cream cheese flavoured with Limoncello liqueur and Sicilian lemon zest, served
on a crunchy biscotti crust
Torta al Cioccolato con Caramello Salato
Salted Caramel Chocolate Tart, served with home-made honey and biscuit ice-cream
Tiramisu Classico
Layers of sponge, laced with rum and espresso coffee, filled with zabaglione,
topped with cocoa & shavings of dark Italian Chocolate
Tortino di Mele
Warm Brambly apple tartlet, topped with homemade vanilla ice cream and smothered in
a warm zabaglione cream
Gelato Rinuccini (Gf)
Selection of Rinuccini Homemade Ice-cream, made with fresh Irish whole milk & cream
Biscotti con Vin Santo (€3 Supp)
A glass of chilled Vin Santo Dessert Wine with homemade twice-baked crunchy biscotti
Formaggio Rinuccini (€3 Supp)
Selection of Italian cheeses, homemade oat biscuits, pear & balsamic chutney
https://www.rinuccini.com/wp-content/uploads/RinucciniFood2.jpg
1920
2880
admin2018RL
http://www.rinuccini.com/wp-content/uploads/Rinuccini.svg
admin2018RL
2017-03-20 15:18:11
2017-03-20 15:18:11
Mother's Day at Ristorante Rinuccini