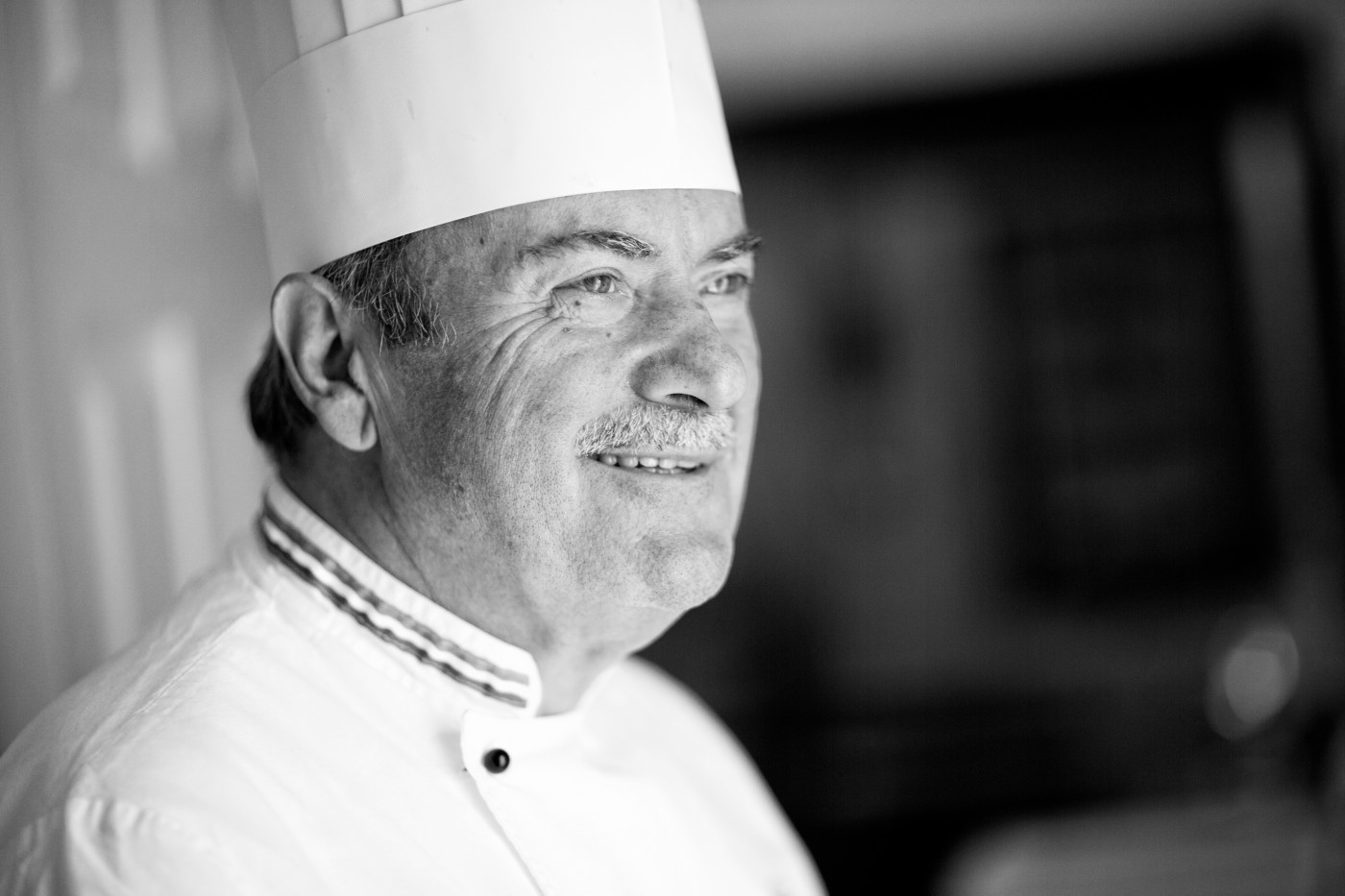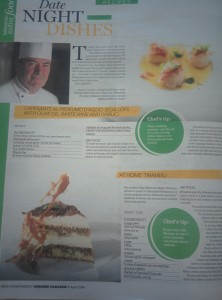 Recently some of Chef Antonio's Date Night Recipes were featured in Irish Independent Weekend Magazine, one of our favourite reads on the weekend, filled with food news, scrumptuous recipes, wine and reviews.
Featuring some of his favourite dishes to really spoil your loved one, Chef Antonio shared some classic Italian dishes that are perfect for 'Date Night'!
He tells us, "The scallops in a beautiful lemon and butter sauce are very tasty and light. We always get our fresh fish and scallops from Kilmore Quay and they are always superb.  In the restaurant, our classic Italian Tiramisu is always a favourite. This beautiful Italian trifle is made with coffee and the word 'Tiramisu' means 'pick me up' – the perfect dessert after a delicious meal. My family always enjoy this dessert and I can't resist it myself when I visit home!"
We hope you enjoy trying out these simple yet delicious recipes at home. Why not share your creations with us on Instagram or Facebook.
Buon appetito!
Scallops Recipe: Capesante al Profumo d'Aglio
Serves 2 people
Ingredients 
Ristorante Rinuccini Extra Virgin Olive Oil
1-2 finely sliced garlic cloves (to taste)
splash of white wine
50g butter
½ a zested lemon
16 fresh Kilmore Quay scallops
Handful of chopped flat leaf parsley
Maldon Salt and freshly grated black pepper
Method
Sauce
Add a splash of Ristorante Rinuccini Olive Oil to the pan and when hot, sauté the garlic.
Add the white wine and lemon zest and add the butter, reduce in the pan until slightly thick in consistency, season to taste,  set aside.
Scallops
Just before serving cook the scallops. In a roaring hot non-stick pan, sear each side of the scallop for 1 – 1.5 minutes until golden. It is very easy to over-cook scallops, they should have a springy texture to the touch and all of the pinkness should be gone.
Assemble the dish and serve immediately with a flourish of flat leaf parsley to finish.
Antonio's Tip: when cooking scallops rub the oil on to the scallop rather than in the frying pan for best results.
Chef Antonio's 'at home' Tiramisu Recipe
My recipe for the delicious creamy Tiramisu served to guests at Ristorante Rinuccini is a closely guarded secret with some special ingredients; however this is my mother's recipe that is very special.
Ingredients
2 egg yolks
40 caster sugar
35ml of Marsala Wine (or to taste)
250g mascarpone cheese
200ml lightly whipped cream
5 shots Espressos (or strong fresh ground coffee)
Packet of Savoiardi Biscuits
Good quality cocoa
Method
Whisk the egg yolks, Marsala and sugar together until it turns to a pale yellow colour.
Add the mascarpone and cream to the mixture and mix well.
Then prepare the espresso or strong coffee. Pour the coffee into a flat dish.
Dip the biscuits in the coffee and shake off the excess.
In a pretty serving dish begin to create the layers. Begin with a dusting of cocoa, then add a layer of soaked biscuits and lavish with the cream and Marsala mixture. Dust with cocoa again and repeat.
Continue this layering process and finish with a creamy layer and a final flourish of cocoa.
Place in the fridge for a few hours to set and allow the coffee to soak into the dish.
Antonio's Tip: If you can't find Marsala use sweet sherry instead
https://www.rinuccini.com/wp-content/uploads/Chef-Antonio-Cavaliere-of-Ristorante-Rinuccini-e1496759579698.jpg
933
1400
admin2018RL
http://www.rinuccini.com/wp-content/uploads/Rinuccini.svg
admin2018RL
2016-04-29 12:04:46
2016-04-29 17:42:06
Chef Antonio's Date Night Recipes