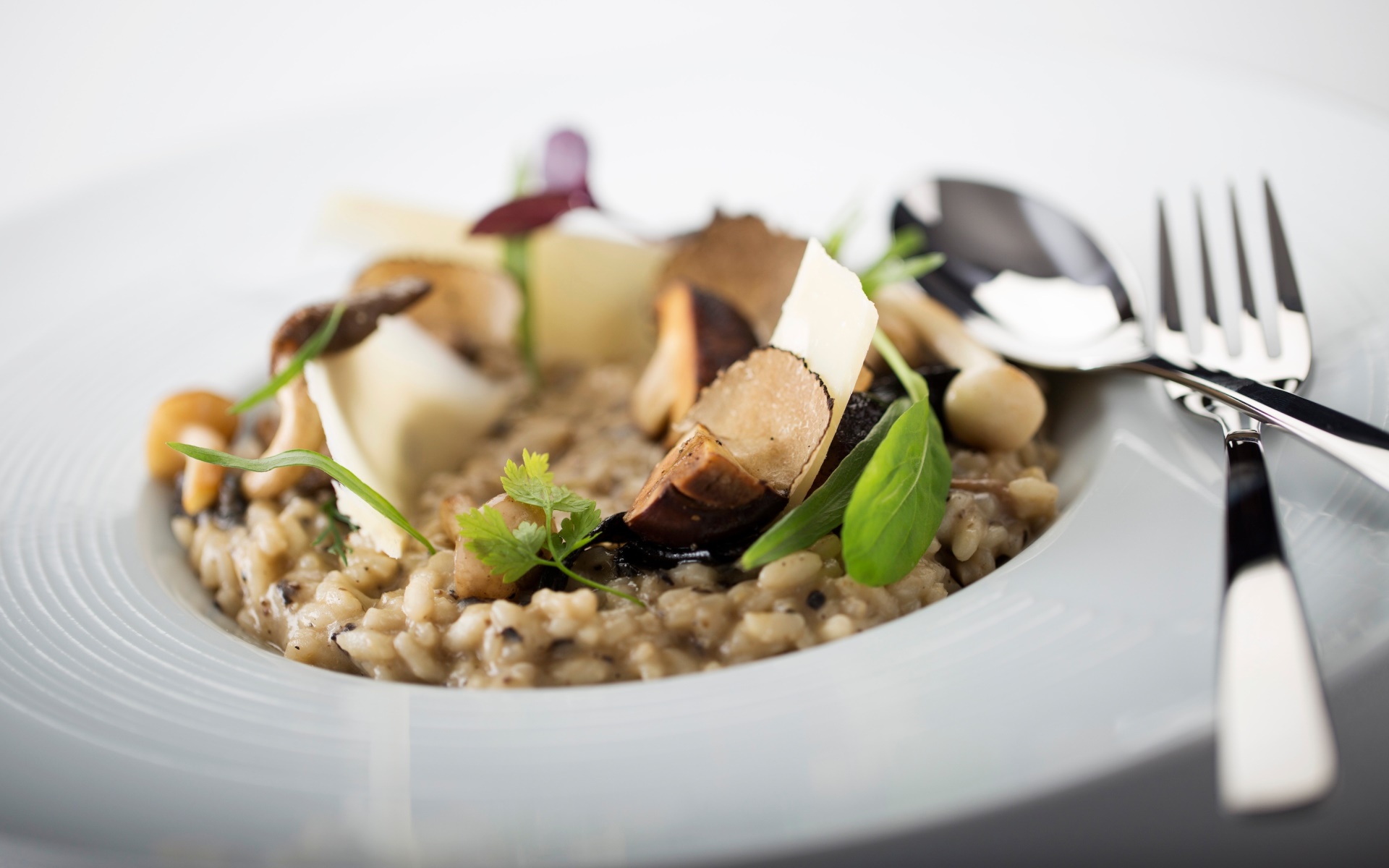 Recipe: Risotto con Funghi Porcini
As we move into autumn, Chef Antonio loves to celebrate the flavours of the new season. One such ingredient which is packed full of strong nutty flavours is the Porcini mushroom, a renowned Italian mushroom that makes a delicious and creamy risotto.
At Ristorante Rinuccini we use Carnaroli rice, known as the "caviar" of Italian rice, Carnaroli is the preferred risotto rice in our home town of Lazio as it makes the creamiest risotto. Carnaroli rice is available in good food stores however the more readily available Arborio will work just as well in this recipe. At Rinuccini we always advocate for the use of the freshest ingredients, however at some times of the year fresh 'Funghi Porcini' is simply not available and the dry alternative is very good.
We hope you enjoy this beautiful autumnal risotto.
Ingredients
Serves 2
25 gm dried Porcini Mushrooms
250g boiling water
1.5 tablespoons butter
1 tablespoons Ristorante Rinuccini Extra Virgin Olive Oil
2 lt vegetable stock
1 small onion, finely diced
1 garlic clove, grated
1 small glass of dry white wine
75g assorted wild mushrooms, sliced
200 gm Carnaroli rice
20gm Parmesan cheese
Salt and freshly ground pepper
Method
Soak the dried porcini mushrooms in boiling water for about 20 minutes until tender. Remove from the water and coarsely chop. Reserve the soaking liquid but strain it to ensure no grit from the mushrooms remains.
In a saucepan, bring the vegetable stock to a boil. Cover and keep the stock at a bare simmer over low heat.
In a second saucepan, melt 1 tablespoons of the butter (reserve the rest for later) in the olive oil. Add the onion and garlic and cook over a moderate heat until softened but not browned.
Add the Carnaroli rice to the pan stirring until each grain is coated for about a minute.
Add the white wine to the rice and simmer until the liquid has almost completely evaporated.
Add in the assorted mushrooms along with the chopped porcini mushrooms and the reserved mushroom soaking liquid plus enough hot stock to just cover the rice, stirring constantly until the stock has been absorbed.
Add a ladle of stock. Continue cooking and stirring, adding more ladles of stock as it is absorbed, until the rice is just tender and a creamy sauce forms. It will take about 30 minutes.
Remove the risotto from the heat and stir in the remaining half tablespoons of butter and the grated Parmesan cheese. Stir in salt and pepper to taste. Place a lid on the dish and allow to stand for one minute.
One final stir then serve in shallow bowls with a drizzle of olive oil to finish.
Antonio's Tip: When in season, store fresh unwashed porcini in a dark paper bag in the refrigerator for up to three days. Store dried porcini in an airtight container in a cool, dark larder up to six months. If porcini mushrooms cannot be found, use chestnut or wild Irish mushrooms as a great alternative.