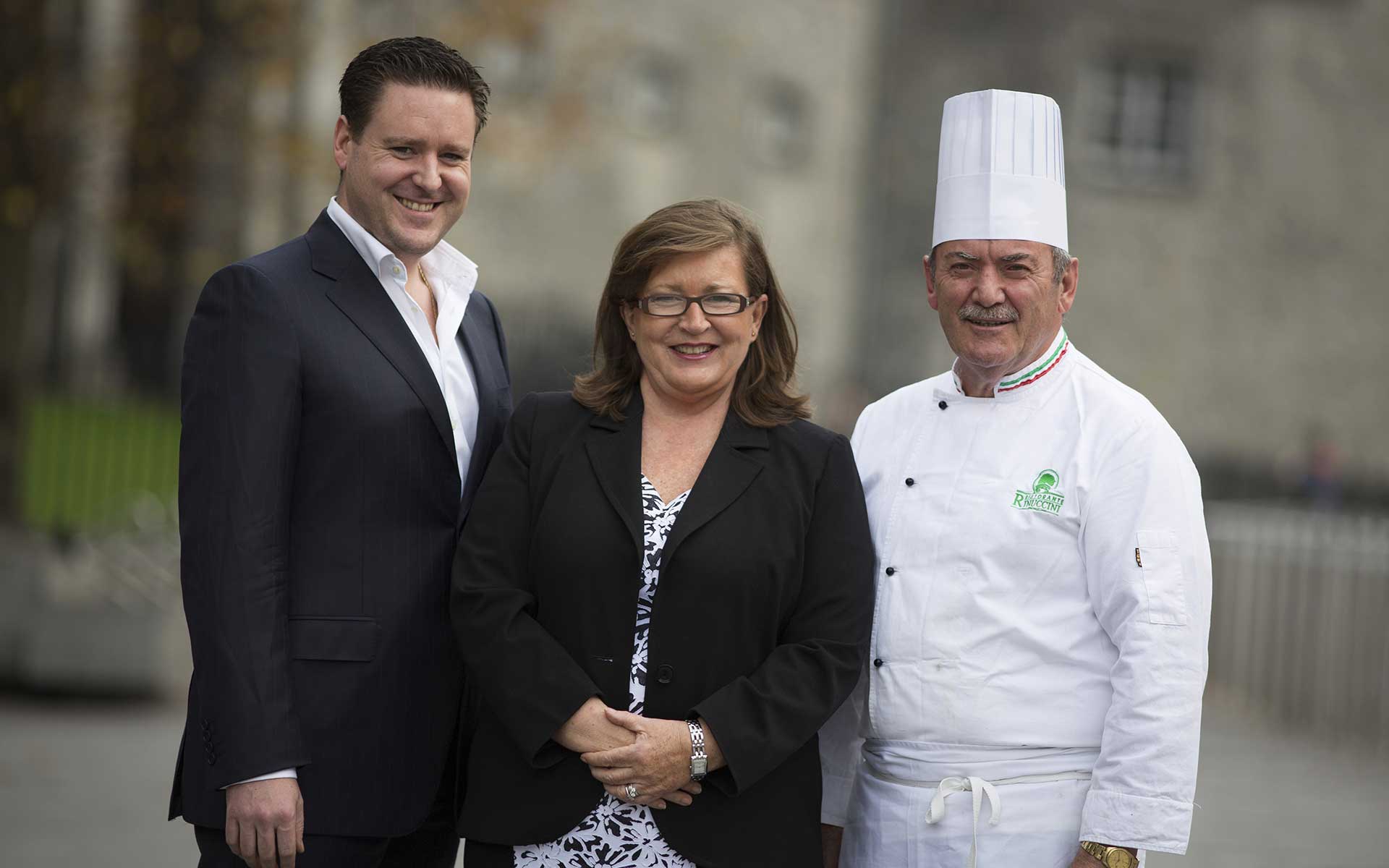 Antonio and Marion Cavaliere
Antonio came to Ireland from Lazio aged 15. He served his apprenticeship under the classically trained chef, Bernardino Gentile, at Quo Vadis in Dublin, one of the first and most influential Italian restaurants on the Irish scene. It was there that he met and later married a charismatic Irish woman, Restaurant Manager, Marion Power.
The young couple established their first restaurant together in Portlaoise in the mid-seventies and in 1989 they fulfilled their lifelong dream and opened Ristorante Rinuccini, Kilkenny's first Italian restaurant, opposite the city's medieval Kilkenny Castle at the start of what is now the Medieval Mile.
Antonio has gained many accolades, including 'Chef of the Year' and under his guidance and vision we have consistently been listed in the Michelin Guide for fifteen years. He has also received acknowledgements from the McKenna Guides, Georgina Campbell and Lucinda O'Sullivan.
Antonio was selected to become a member of Good Food Ireland for his commitment to sourcing the very highest quality local and Irish produce. He also sources all his own wines and many of his Italian ingredients, including salumi, cheese and extra virgin olive oil from select vineyards and artisan producers from his native Italy.
A Family's Passion
Food and family are at the heart of Italian culture and at the heart of Ristorante Rinuccini. Like all Italian families they are full of passion and that passion – for fine cuisine – continues to the next generation, with Antonio and Marion's son, Riccardo and his wife Orla carrying on this strong family tradition and continuing their legacy.
Giovanni Battista Rinuccini (1592-1653)
The restaurant is named after a Florentine noble and scholar, Papal Nuncio Giovanni Battista Rinuccini who lived in Kilkenny in the mid-seventeenth century and was held in very high regard for his refinement and patronage of the arts and fine food. He was reported to have coined the phrase, while living in Kilkenny 'Tavola quattro chiacchiere gusto da tradizione Italiana' which translates to 'At the table conversation is an Italian tradition'. We try to deliver this sentiment with every meal and to live up to the Rinuccini name each day. We strive to give our customers a memorable dining experience and we look forward to welcoming you to Ristorante Rinuccini.