One of the highlights of our work at Ristorante Rinuccini are the twice-weekly trips to Kilmore Quay. A beautiful seaside village in Wexford in the south-east of Ireland famed world-wide for their delicious Kilmore Quay prawns.
We are so fortunate to be located in Kilkenny City a short journey to Kilmore Quay; home to some of Ireland's finest fishmongers, many of whom have been supplying Rinuccini for the last twenty-five years since we opened our doors!
We have built up excellent relationships with these family-run supply partners over the years. We know and trust them wholeheartedly to provide the very best seafood available in Ireland. With prawns and sole from O'Flaherty Boats, scallops from Eugene Synnotts and crab form the Roche family our regular trips to Kilmore Quay ensure that we can offer our customers the freshest fish available in Kilkenny. Selecting the fish we look for nice bright eyes, a shiny exterior and a fresh scent of the salty sea.
It is important to us that we have fish at its best, never more than a few days from the sea and you can really taste the difference! We especially enjoy creating our special 'Catch of the Day' and on our trips we look for a special piece of fish for this dish! We love to offer a delicious cod fillet, plaice or haddock with a light and zingy butter or fennel infused sauce.
From our a la carte menu, 'Capesante al Profumo d'Aglio' is one of our most popular choices for a starter; seared Kilmore Quay Scallops, drizzled with extra virgin olive oil, white wine, garlic and fresh coriander. 'Gamberoni Rinuccini' is another menu highlight, the famous Kilmore Quay prawns, served out of their shells, in a cream sauce with a touch of Dijon mustard and brandy.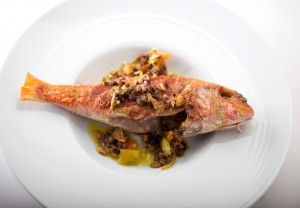 The fishing village of Kilmore Quay is full of characters too, with great stories from their boat trips and an impressive depth of knowledge that comes from a devotion to fishing and life at sea. We always return along the winding roads that connect us to the sea bursting with ideas for our menus and renewed respect for the families that supply the freshest catch.
Take a look at our gallery to see pictures from our trips or call 056 7761575 to book your table for fresh Kilmore Quay catch!
#Rinuccini25
https://www.rinuccini.com/wp-content/uploads/114_0076.jpg
1920
2880
admin2018RL
http://www.rinuccini.com/wp-content/uploads/Rinuccini.svg
admin2018RL
2015-05-13 08:56:24
2015-05-27 16:14:46
Fresh from the sea for Ristorante Rinuccini